A meaningful, inspired movement in love and nature makes us worthy. Global rating average: 5.0 out of 5
The importance of meetings b partings ...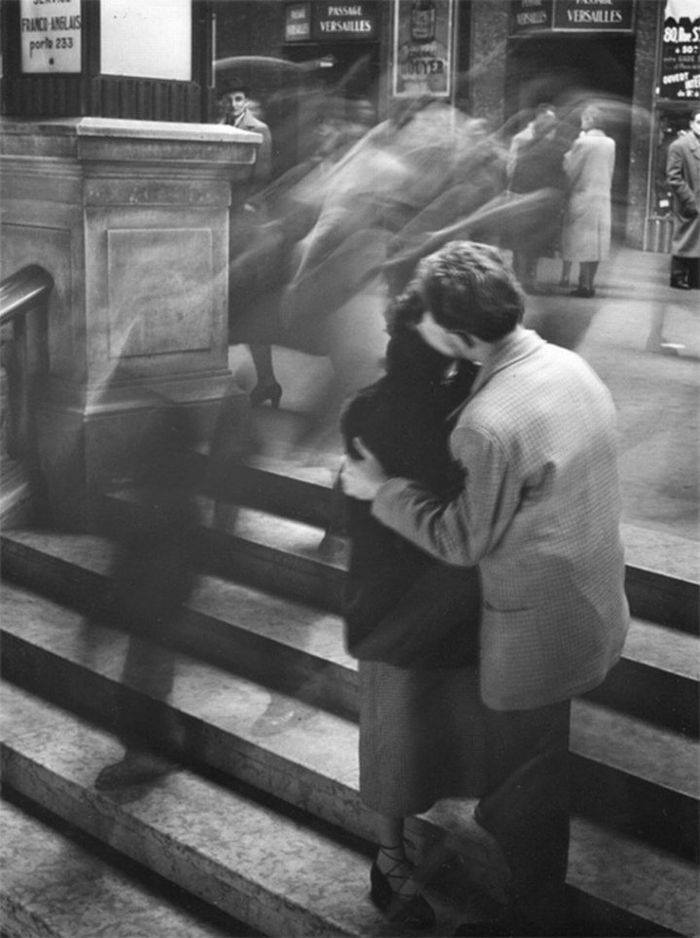 © Robert Doisneau (1950)
* Is life a house with a foundation or a boat in a stream of a turbulent river? To live you need to build a house or a boat? Or do we often create illusions and remain without a house and a boat?
Last day before parting. 13 2017 Friday. We meet in the evenings. He came for a while to be together. We were hugging. Were silent. Kissing. 2 weeks we have grown into each other. This happened very quickly, deeply and naturally. After 2 weeks we knew that there were still 2 weeks left.
And I stopped to rejoice and go deep. I began to clamber up to the surface of the ocean in order not to suffocate at the bottom of his soul, in which I could be locked up. Yes. These are all fears that we cannot influence our future, that someone can betray and not wait for the moment when we can be together, that we will give up and we will not fight and build bridges against the wind. Yesterday I said that I could not give color to my act and the result of our communication. Of course I did not say everything ..All I can not, too frankly and somewhere offensive. But in this, perhaps I am wrong myself, and in order not to offend him, I am silent.
Who can I call him when I return - a friend, acquaintance, or what word is appropriate here, if I see in him my own only person? What story can I tell you about how I spent this month so as not to cry? Was I alone or with someone, was the person who was here with me, or is it an illusion, and the person was only because I came out of politeness and a sense of gratitude. I sincerely wish to fill this life with meaning and integrity.
I see that in love I am becoming World and One. But this love I can experience only one. And if we break up now. So what kind of love to choose for building the foundation of your life. How this love will help me, if only, embracing it, the world penetrates into me, and I perceive the world in true colors. 2 weeks before departure, I seriously wondered what that meant. Again, the situation that we are well together as long as possible, and if not, I'm sorry, circumstances. We are not children, it's all a lie, I do not convince me of this.
Love overcomes everything. He is the 2nd person in life, whom I seem to dissolve in myself and make as an inseparable part.I call my thoughts in my thoughts and I can look into my eyes for a long, long time, to be silent and questions, when we grow together in strong true embraces, dissolve in space and time. How to move further, what to do with this love? And for these 2 weeks I am deeply crying and sad and distancing myself, I openly say that we essentially refused each other. Last day. Evening. I do not want to cry. But it hurts me long ago. And the heart hurts from longing. And the air is less and less. And I'm afraid. Lose sense. Or choose a fake meaning, to at least somehow continue this life in motion. I thought this trip would be an energy boost for me and give strength for further movement, and now I understand that again I need a lot of time to restore my soul. My soul was torn to pieces, because the wrong people and events often penetrated there. And we had to lose a year to "darn" the soul after another relationship, when we were just "good", but beyond that, men did not need good, or we were not ready.
* You can not touch the physical body of a person and the body of the soul, if you are not ready to live all your life with these bodies.
Related news
The importance of meetings b partings image, picture, imagery