Pork Kharcho soup - recipe
Despite the fact that Georgia is no longer part of the USSR, and other republics have long become separate countries, there is little effect on the Russian appetite, and traditional dishes such as Uzbek pilaf, kharcho soup or hinkali, many foreigners consider Russian cuisine. Strange, right? Exotic spices or unconventional taste are unknown for classic Russian cuisine. But over the years or even centuries, Russian cuisine has adopted methods of cooking dishes from its closest neighbors from the Caucasus and Central Asia.
Pork Kharcho soup from the former USSR
For a good result, you can take what today's chefs have adopted in the use of hot spices, musk and nut flavors of the Caucasus.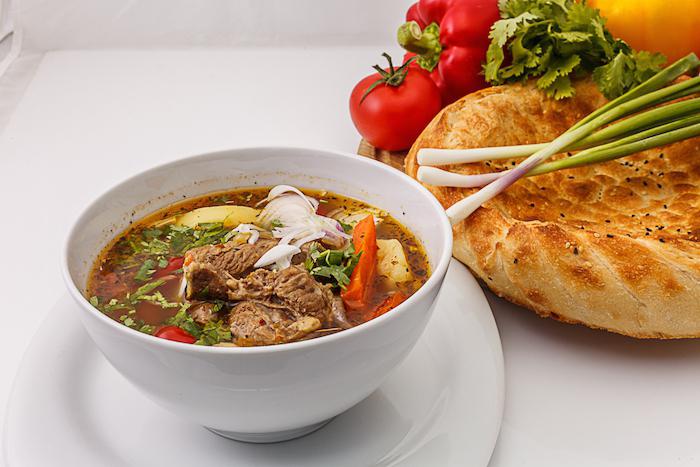 In Georgia, they use tkemali, satsibeli, pomegranate juice and others. A set of spices and seasonings for making kharcho soup is diverse. They use hops-suneli, zira, tarragon, coriander, tamarind zest, fresh parsley and cilantro and others.This traditional Georgian soup - just from the category of soups, which insist and the next day become even better.
Nourishing, tasty, fragrant, thick tomato soup from the Caucasus - pork kharcho soup - known throughout the territory of the former USSR and has long gone beyond the borders of its native Georgia.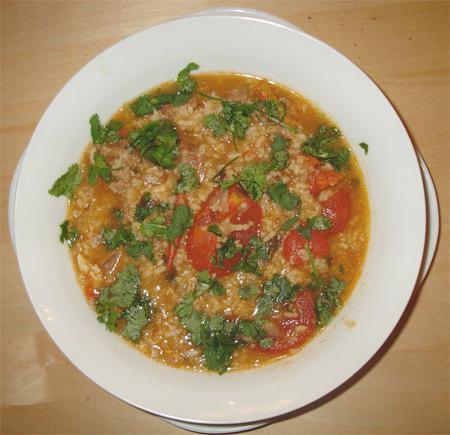 In Russia, this soup is as popular as borscht or hodgepodge. Pork Kharcho soup can be on the menu and in an expensive restaurant, and in the factory canteen.
This hearty soup can be very useful on a cold snowy day, it can warm and satisfy hunger, enhanced by frost.
Traditional and unconventional recipes for cooking kharcho
Each cook has his own recipe for kharcho soup, as well as many of its varieties. You can make kharcho soup made from beef or pork, chicken broth or lamb, with the addition of tomatoes or without them. But the main thing is that they prepare it with a specific set of Georgian spices and spicy-spicy-sweet sauces of dried fruits, plums, cherry plums, apricots. The result should be sour and sweet, a bit spicy kharcho soup with pork.
Georgian version
In Georgia, as mentioned above, tkemali, satsibeli, pomegranate juice and other spices and seasonings are used.

Here will be presented the recipe for pork kharcho soup not quite traditional, but even a little exotic, from a famous chef. So, go ahead. You need to do a lot, because it is not a simple recipe, but rather laborious!
Basic recipe
Cooking pork kharcho soup is a complicated process at first glance. For it will need:
2 liters of broth.
1 kilogram of medium-fat pork without bone (preferably the neck), cut into small cubes, approximately like a kebab, is not very shallow.
2 onions large, but cut into small cubes.
10 ripe tomatoes, you can take the tomatoes in their own juice.
45 ml, or 3 tablespoons of excellent olive oil.
60 grams of prunes and dried apricots.
4 cloves of garlic peel and mash it.
15 grams or 2 teaspoons of tamarind sauce.
45 grams of tomato paste (if you use tomatoes in their own juice, you do not need).
1 ml (1/4 tsp) red hot cayenne pepper.
1 ml (1/4 tsp) black peppercorns.
2 ml (1/2 tsp.) Of dried tarragon.
1 ml (3/4 tsp) crushed coriander.
60 ml (1/4 cup) kernels of chopped walnuts.
Salt and black pepper to taste, if desired, you can use carrots, cut into large cubes.
45 ml, or 2 tablespoons of freshly squeezed lemon juice.
500 ml, or 2 glasses of pomegranate juice.
700 ml of water.
1 cup rice.
2 cups of a mixture of fresh herbs: cilantro, parsley, dill and others, you can add crushed garlic.
Cooking Instructions
Cooking pork kharcho soup will be easy.
Soak prunes and dried apricots in hot water and set aside for now. Soak the tamarind zest in hot water and set aside.
It is better to cook the kharcho in a saucepan with thick walls and bottom. In such a container, it is necessary to heat the oil over high heat. At this time, prepare the pork for the soup in the following way. Wipe with a paper towel, and then rub the meat with salt and pepper.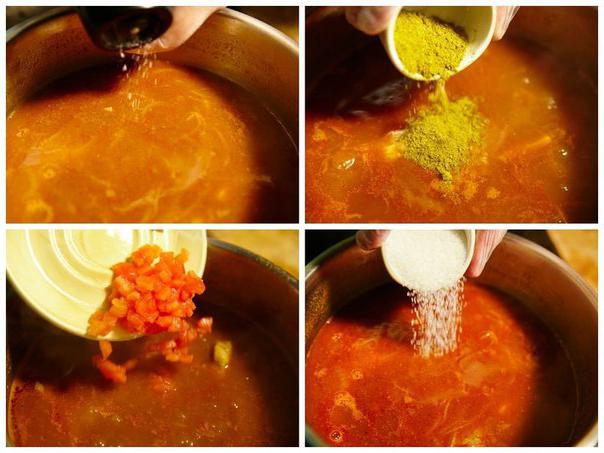 The oil is heated, and you need to quickly fry the pieces of pork for 3-5 minutes, reduce the heat to medium and add onion, cut into cubes, garlic and fry until they become transparent golden color. Stir frequently and make sure not to burn. Then you can put for roasting carrots, according to your desire.
Add not very finely chopped tomatoes and tomato paste and mix to combine all the ingredients.
Slowly pour the broth into the vegetables. We lay the spices and chopped walnuts and put on a very slow fire, so that all the ingredients are extinguished and soaked with the flavors of spices.
Swollen prunes and dried apricots are placed in a food processor and mixed to a jelly-like consistency, poured into the soup. Tamarind rind will also be added to the soup. Now this mixture should be simmered on a slow fire for exactly 45 minutes.
While stewing pork meat and spices with vegetables, cook rice. Take a thick-walled pan and fry it in olive oil until it becomes transparent and golden. Add 500 ml of broth and cook crumbly rice separately. Cooking time - 15-20 minutes. Leave aside.
After 45 minutes, add lemon and pomegranate juice to the soup pot. Add salt and pepper to taste. Another 10 minutes give the ingredients to connect, later add rice.
Serving on the table
In Georgia, for soup kharcho of pork or other meat plates it is customary to heat, so we pour the soup into warm deep soup containers, according to tradition, a slide of rice in the center, and pour broth, spread the pork and sprinkle with fresh spicy greens. Greens do not regret and sprinkle it with plenty of soup. Enjoy the extraordinary taste!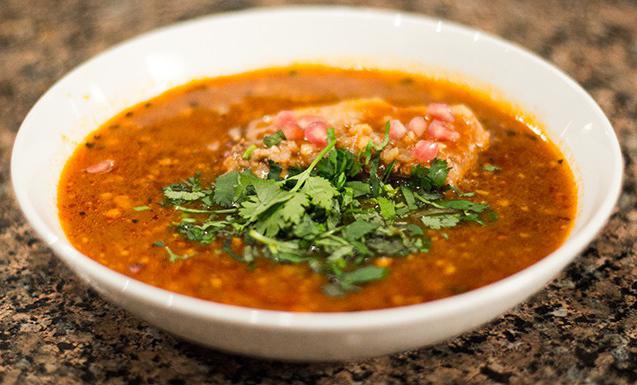 Scented Kharcho soup is rightfully the pride of Georgian cuisine, and there are many options for making this soup.You can diversify the recipe in different ways. Traditionally, tklapi seasoning is a dried plum puree, but you can deviate from the standards and use plum or cherry plum, cut into pieces, you can make the soup moderately spicy, or you can make it very spicy, as your family likes. In some families, they prefer the recipe for cooking pork kharcho soup without adding tomatoes, and it turns out to be excellent.
Kharcho soup and main cooking traditions
And in Russian cuisine you can cook this famous soup in the traditional way and then cook it in a Russian stove, using ceramic pots instead of a saucepan to enhance the taste.

Just as in Georgia, there are no strict rules for cooking kharcho soup with pork, the recipe of which is presented here. In different regions of Georgia you can try different variations of kharcho soup. Therefore, choose the ingredients closest to your preferences.
Follow the order of laying components, and you will be able to cook excellent soup kharcho their pork or other meat. The main thing is to cook it with a soul, and it will make a delicious kharcho soup with pork. You already have a recipe.
Related news
Pork Kharcho soup - recipe image, picture, imagery