New tasty salads - festive table decoration
"Caesar", "Olivier" and "Mimosa" are you tired of your order? Want to pleasantly surprise your guests? Then we offer you a new delicious salads. In the article you will find some simple recipes. We wish you culinary success!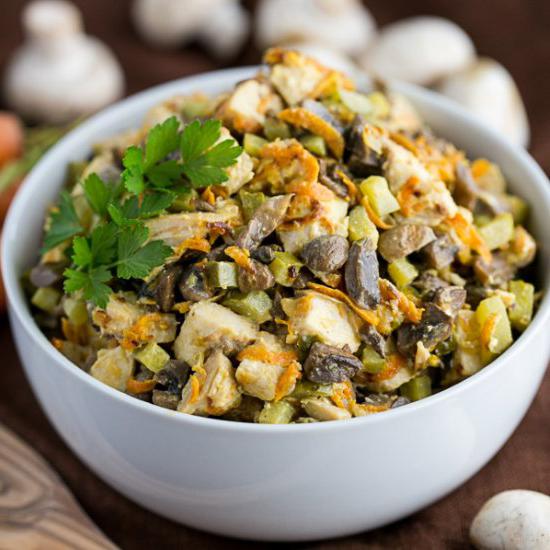 New delicious salads: recipes with chicken and mushrooms
Option number 1. Classic
Grocery list:
200 g chicken fillet;
one carrot;
eggs - 4 pieces;
a jar of canned peas;
medium onion;
potatoes - 3 pieces;
100 g marinated mushrooms;
bunch of green onions;
mayonnaise;
spice.
Cooking:
1. Cook the specified number of eggs. Peel potatoes and carrots. Boil them whole.
2. Wash chicken meat, then send it to a saucepan with salted water. Cook until fully cooked.
3. Getting to the processing of vegetables. Boiled potatoes and carrots cut into cubes. We spread in a deep bowl. There we send crushed onions. Add a little vinegar, water and sugar. In this marinade vegetables should stand for 20 minutes.
4.Now you need to chop the green onions. Add it to the salad bowl.
5. Cut the cucumbers into cubes, and divide the mushrooms into 4 parts. If you bought small champignons, then cut them in half. We put in a plate to the remaining ingredients.
6. Open the jar with peas. Drain the liquid. The contents of the banks lay out in a salad bowl.
7. Mix the ingredients thoroughly. Salt and pepper. We pour mayonnaise. You can decorate the dish with lettuce leaves. Enjoy your meal!
Option number 2. "Quail's nest"
Ingredients:
100 g of ham;
eggs - 3 pieces;
200 g marinated mushrooms;
potatoes - 3 pieces;
200 g chicken fillet;
vegetable oil;
spice;
mayonnaise.
For quail eggs:
bunch of dill;
100 g of hard cheese;
3 egg yolks from chicken eggs;
garlic;
a bit of mayonnaise.
The practical part:
1. Clean the potatoes, rinse, cut into strips and fry in a pan, adding a little oil. Constantly stir. As soon as a straw appears on the straw, you can turn off the fire.
2. Boil the chicken in salted water. Then cut it into pieces.
3. Ham cleaned from the film. Grind (preferably straw).
4. We clean the boiled eggs from the shell. Cut in half.Separate the whites and yolks. Some will go for decoration, and others - in the salad. It is necessary to grate proteins on a coarse grater.
5. Mushrooms cut into slices.
6. Getting to the formation of quail eggs. To do this, rub the yolks and grated cheese. To the resulting mass add chopped garlic and mayonnaise. Stir well. We form several balls that will symbolize quail eggs.
7. In a deep salad bowl send pieces of chicken, mushrooms and ham. Mixing ingredients. We grease with mayonnaise. In the middle we make the deepening. We put quail eggs in it. Along the edge we distribute a straw of potatoes. Sprinkle with chopped greens on top. Well, if the "Nest" will be located on the leaves of lettuce. It turns out an original and appetizing dish.
Your guests will certainly appreciate the delicious new salads. The recipes described above can be slightly modified or supplemented with some ingredients. Do not be afraid to experiment!
The most delicious new salads with fruit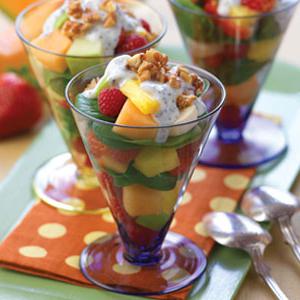 You have prepared a few fragrant dishes, but it seems to you that something is missing? Does the table look not so bright and festive? Fruit salads will help to correct the situation - tasty, new, simple.We offer two interesting options.
Fruit salad with cream
Ingredients:
50 g orange peel;
300 g strawberries (fresh or frozen);
5 tbsp. l coconut shavings;
100 ml of orange juice;
2 tsp. Sahara;
5 tbsp. l chocolate chips.
Cooking process:
1. Wash the strawberries. Remove the tails. If you bought a frozen berry, then half an hour before cooking a salad, you need to defrost it.
2. Cut each strawberry into 4 parts. Sent to the salad bowl.
3. Grate the orange zest. Sent to the berry. Sprinkle with coconut flakes.
4. Whip cream with sugar in a separate plate. Pour in the specified amount of orange juice. Beat again. The resulting cocktail is added to the salad bowl to the strawberries. Mix everything well. Sprinkle with chocolate chips. We send the salad in the fridge for 20-25 minutes. You can serve it as a dessert.
Spicy Salad with Apples and Tangerines
Food Package:
1 glass of yogurt;
two apples;
sweet pepper - 2 pods;
200 g of hard cheese;
tangerines - 5 pieces;
2 tbsp. l lemon juice;
100 g of champignons;
honey and mustard - 1 tsp.
Cooking:
1. Wash the apples. Remove the core and peel.The flesh is cut into cubes.
2. Mushrooms need to rinse, chop and boil until fully cooked. If the store did not have champignons, then you should not worry. New delicious salads can be prepared from other types of mushrooms.
3. Now we need to process the peppers. We wash it with running water and cut it into rings.
4. Remove the peel from tangerines. Separate the pulp into slices. Optionally, you can cut the tangerines into circles.
5. Grind the cheese (preferably cubes).
6. Put on the table a beautiful salad bowl. We put apples, pepper rings, tangerines, chopped cheese and boiled mushrooms in it.
7. Doing refueling. To do this, mix honey, mustard, yogurt and lemon juice. Cooked sauce pour salad. It remains to mix the ingredients and serve the dish to the table.
Cooking for kids
New delicious salads offered by us will decorate any table. They can be served as a snack, and as a dessert. Do not forget to cook another salad for children. We recommend you a simple recipe.
Products:
50 g of hard cheese;
100 g sour cream;
packing crab sticks;
two eggs;
40 g of crackers;
Fresh cucumbers - 2 pieces.
The practical part:
Boiled eggs boiled.We clean them from the shell and cut into cubes. Chop grated cheese. Crab sticks and cucumbers need to be cut into cubes. These ingredients are laid out in a salad bowl. We add crackers. We fill with sour cream. Thoroughly mix everything. Salt to taste. We remove the dish in the fridge for half an hour. Salad is very tender.
Related news
New tasty salads - festive table decoration image, picture, imagery