Making paving tiles at home. The composition of the solution equipment. Technology
For those who are planning the improvement of the estate, there is always a need for laying garden paths. Such elements of the garden should be not only functional, but also attractive in appearance.
Should I buy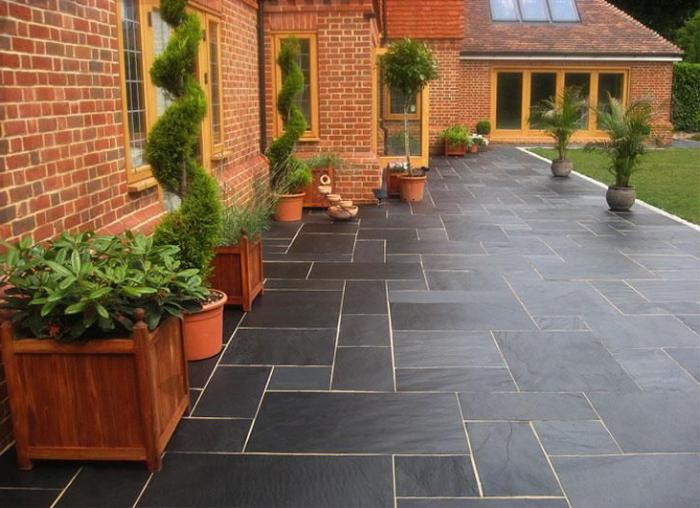 Of course, you can buy paving slabs in stores building materials and use it for arranging the territory, but much nicer and more interesting to do the manufacture of their own. As a material for a garden path, not only concrete, but also gravel, natural stone, as well as wooden saw cuts, can act. However, the most popular is still the tile, which is ready to serve for a much longer time, looks very attractive and has excellent performance characteristics.If you think that making paving slabs at home is impossible, then we dare to inform you: your beliefs are wrong. After you get a taste, you can even open your own business, which will bring considerable income.
Possibility of staining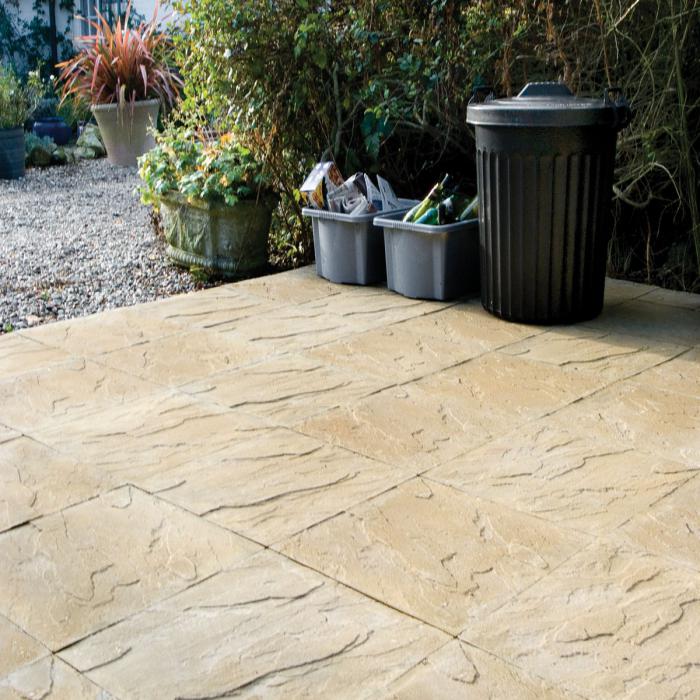 It is worth remembering also that it will be possible to execute a tile in such color scale which cannot be found in the market of construction materials. To do this, it is enough just to add pigments of the corresponding shades to the cement mortar. After the tile hardens, you will be able to equip the garden plot with such a path that will differ in originality, and will also be in harmony with the style of the garden and the house.
Advantages of homemade paving slabs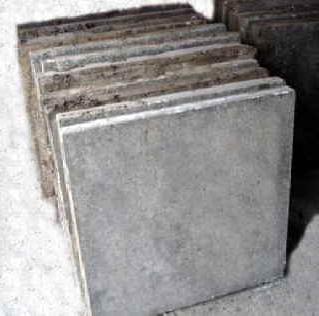 Making paving slabs at home is not so difficult, but before starting the process it is necessary to take into account that production will be a rather laborious and long task. But at the same time, such manipulations can be a very exciting process. As a result, you will be able to get exclusive products that can be combined on a scenic path.Such elements will serve as a decent frame for cultivated flowering plants.
The issue of saving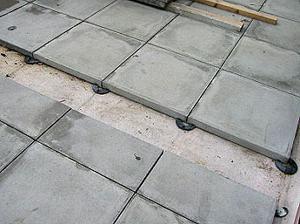 It is worth noting that the manufacture of paving slabs at home will allow the master to save a significant amount of money, because you only have to buy consumables, but the finished products cost several times more expensive. You should not use tiles made at home to cover sites that are designed to move heavy equipment or vehicles. However, as walkways, such products are perfect. Ultimately, you will be able to get products that have unsurpassed durability.
Preparation of tools and materials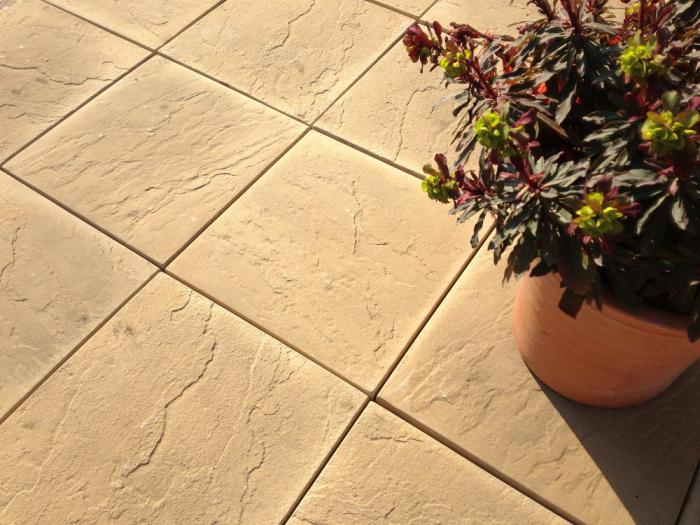 Production of paving slabs in the home will be impossible to carry out, if not in advance to stock up on the appropriate set of tools and materials.
To create original paving slabs, you will need to buy cement, as well as sand. They will be mixed in a certain proportion, which will depend on what purpose the track should have.In order to make sufficiently durable garden paths on the basis of paving slabs, you should use cement brand M 500. Save money on the material, as well as its quality, is not worth it, because in the end products may not be very strong. Making paving slabs with their own hands should be carried out using clean water and sand, these ingredients should be cleaned from foliage and dirt. However, it is not scary if the sand contains small fractional stones. Concrete will not suffer from their presence. Moreover, the products will gain unusual texture.
Wizard recommendations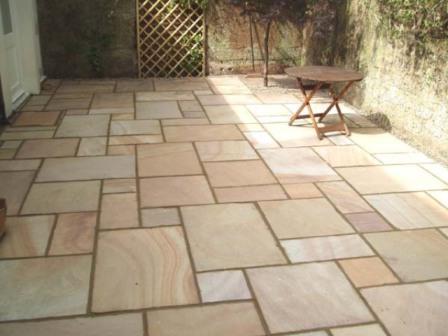 Making paving slabs with your own hands can only be done using basic materials, but if you want to improve the strength characteristics of products, you can add plasticizers to the concrete. The presence of these components allows, among other things, to increase the resistance of products to sudden and significant temperature changes.
During the work, you will need a form for the manufacture of paving slabs, it can be purchased on the market of building materials, such products are presented in a wide range, they are usually based on plastic. They can have completely different shapes and sizes.You can use the form several times, it can withstand up to two hundred fillings.
If you decide to engage in the manufacture of tiles on a professional basis, it is recommended to purchase significantly more forms. This will speed up the work process. Among other things, some masters advise to acquire several types of forms. This will allow you to combine configurations and create unusual ornaments that will decorate the territory of the site.
The form for the manufacture of paving slabs may not be purchased, a number of home craftsmen quite often show ingenuity and use plastic molds, which are containers for food. Such products possess high flexibility, durability, and also softness. If you have available containers of simple shapes that have equal sides and right angles, you can make rectangular bricks from them, which, when laid, will quite simply fit together.
Work on the solution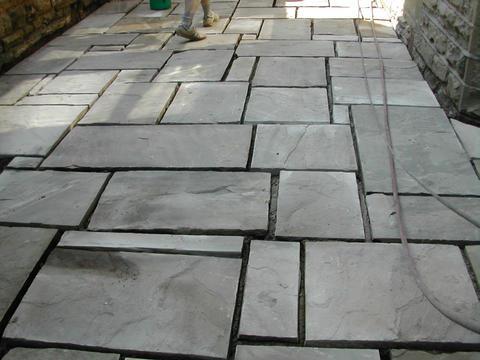 Manufacturing technology of paving slabs involves the need to prepare a solution.To do this, you will need to mix cement and sand, resorting to manual or mechanized method. In the latter case, you can use a punch, which has a nozzle in the form of a mixer. If you plan to create a track that assumes the presence of hundreds of tiles, then it is recommended to stock up on a concrete mixer. This will facilitate the process, speed it up, and also allow you to complete tile laying in one season. Such equipment can not be purchased, but rented.
For mortar, use cement and sand in a ratio of 1: 3. If a concrete mixer is used, it is important to obtain a homogeneous mass. For this purpose, sand is initially filled up, and only then cement, while rotating the container should not be stopped.
The manufacturing technology of paving slabs provides for the addition of water in that quantity so that the mortar has the necessary consistency. It should not be too liquid, as this will reduce the strength of products. In order to eliminate this phenomenon, with stirring and subsequent pouring of the solution, water-repellent additives should be used, as well as reinforcing fiber.
If necessary, add a pigment that is resistant to ultraviolet and alkaline conditions. The volume of the dye for the solution should be selected by the method of testing, ranging from 50 grams, after which you can increase the proportion. The composition will find a uniform color after five to seven minutes of mixing. To determine the readiness of the composition will allow the absence of lumps.
Pouring concrete into the mold
If you have a vibrating table for paving slabs, then this will improve the quality of products. However, not every home master has such equipment in the arsenal. Therefore, the form can be cast without such an installation.
Before filling the form, it is recommended to lubricate with oil, which will facilitate the shaping of already frozen products. It is good if you have a vibrating table for paving slabs, but you can cope with the task of manufacturing products without it. We'll have to tamp the solution after pouring with a trowel. In order to improve the strength characteristics of products, it is necessary to strengthen them with steel mesh, wire or reinforcing bars. To do this, the solution is first poured to half the tank, then the grid is laid down, and then the solution is added to the upper edge of the mold.In order to create an imitation of the vibrating table, the forms can be laid on a rack or shelf, which then need to be tapped with a mallet.
Drying and unfolding
Well, if you have in stock will be equipment for the manufacture of paving slabs. However, you can do without it. At the next stage, the products should be left to dry completely, during this time the forms should remain covered with plastic wrap, in this condition they should be left for three days. During this period, it is necessary to maintain the concrete in conditions of sufficient moisture. For this product is recommended to periodically moisten with water.
The place where the products are left to dry completely, should be hidden from exposure to sunlight. After the solution for the manufacture of paving slabs hardens in the forms, you can begin the process of forming. To do this, you need to slightly push and shake. After this, the products are left for four weeks in the shade to gain ultimate strength. During this time, the tile should be solid and ready for the subsequent laying of the track.
Conclusion
After the square pavement is ready, it can be easily removed thanks to the oil-treated forms.At the next stage, it's time to start laying the track. At the same time the tile can keep within according to different schemes, for example, it is not so obligatory to locate elements close to each other. They can be removed by a stride length, and grass is planted in the spaces between the products.
Related news
Making paving tiles at home. The composition of the solution equipment. Technology image, picture, imagery