Loch narrow-leaved: landing and care
Loch narrow-leaved - a tree from childhood; its fruits are silvery olives: tart, rough, sweetish, powdery, dense branches covered with leaves with narrow leaves. Erroneously among children, this tree is called the olive tree.
The territory of distribution of the sucker
The homeland of such an interesting silver plant, characterized by a wide spreading crown, brown-red shiny bark and long, 3-centimeter spines, is Asia; today it is widespread in the Caucasus, Iran, South-Eastern Europe, Small and Central Asia, the European part of Russia and Ukraine. The narrow-leaved loch, planting and caring for which are easy enough and anyone can be found along the river banks, on hilly sands, in forest stands along the highways and iron roads, parks and gardens. In Western Europe and America is bred as an ornamental plant.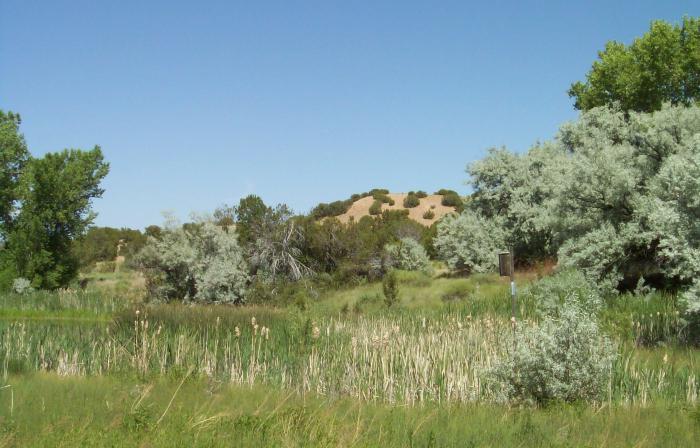 Growth is fast enough, at 3 years of age it reaches a height of 2.5 meters, the average annual growth is about 1 meter per year; the appearance of lateral shoots is observed 4 years after planting.In Crimea, there are often specimens that have stepped over the centenary.
Loch narrow-leaved: description
The height of such a deciduous shrub (tree) that looks like a sea buckthorn or willow, on average is 7 meters (less often 10) with a 30-centimeter diameter of the trunk, often twisted. Well developed enough deep root system.
From above gray-greenish, from below silver-white leaves narrow, elongated-lanceolate, with 5-8 cm petioles, covered with pubescent stellate scales, as well as young shoots and fruits. The flowers are about 1 cm in length, located in the axils of the leaves, bisexual, mostly solitary (less often 2-3). Outside they have a silver color, inside they are yellow-orange, they contain a lot of nectar, for which they are especially loved by bees. Flowering tree begins in June and lasts about 2-3 weeks. The resulting honey (from 1 hectare - up to 200 kg of the sweet useful product) is characterized by a transparent amber color and a soft pleasant aroma. The receptacle contains many beneficial trace elements: nickel, chromium, copper, zinc, aluminum; the essential oil of the flowers of such a tree is used in the perfume industry.
The usefulness of the fruit of the plant
The fruits of the tree have a rounded elliptical shape, yellowish, bony-like, about 1.5 cm in length, edible. Ripening occurs in August and October, fruiting begins at 3-5 years of age.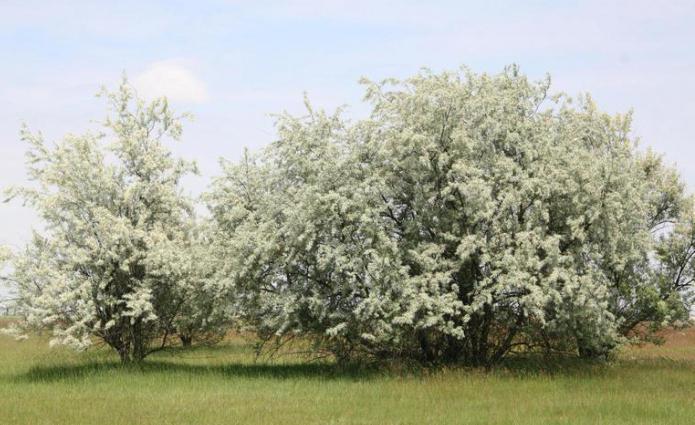 The sugar content is about 60% (including fructose and glucose), protein substances - more than 10%, also in the fruit there is potassium, phosphorus, vitamin C, organic acids. Astringent taste, weakening during prolonged storage or heat treatment, give tannins to the fruit. The fruits are usable fresh, they are very fond of children. Kissel and compotes from these berries have a healing effect, especially for intestinal disorders. A specific taste is characterized by wine from such "olives". On an industrial scale alcohol is produced from fruits, the output of which from 1 centner is 12 liters.
Consumer characteristics of the sucker
The narrow-leaved loch is most respected in the Transcaucasus and Northern Asia, where pshat is called (hence the name of the binder, pshatin, which is a concentrate of tannins and colloidal substances). This tool is used to treat diseases of the gastrointestinal tract, normalize digestion and is a dried and crushed powdery part of the fruit.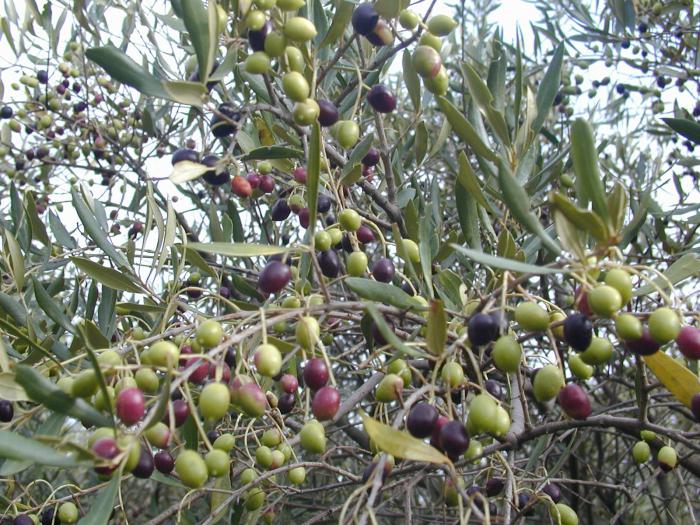 Brownish-yellow wood of such a silvery plant is characterized by viscosity, good resistance to water, high density, and therefore used in carpentry and turning. The bark and leaves contain coloring and tannins, so this material is used when working with leather, as well as for making furniture and musical instruments.
Gum, which is formed when tapping trunks (especially at the age of 5-12 years), is used in the manufacture of paints, varnishes and glue. It is used as an emulsifier and coating agent in the manufacture of tablets.
Use in traditional medicine
Traditional medicine also has not bypassed such an interesting silver tree called Loch narrow-leaved, care for which can be called minimal due to the simplicity of the tree. Its flowers, the preparation of which is carried out during the flowering period, are used for edema, scurvy, colitis, bronchitis, heart disease and as an antihelminthic. Collected raw materials must be dried under a canopy or in a dryer at a temperature not exceeding +40 degrees.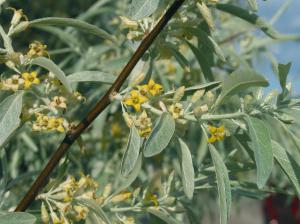 Preparation of infusion of flowers: 6 grams of flowers required to insist in 1 cup of hot water for a quarter of an hour, then strain, squeeze,bring the volume to the initial. Drink 1/3 cup 3 times a day before meals. This infusion is used as an antihelminthic and antipyretic with hypertension, problems with the respiratory tract, to enhance the work of the heart muscle.
The leaves have a wound-healing effect, are also effective for rheumatic pains, radiculitis and gout. They are applied to non-healing and purulent wounds for quick healing; dressing change is required daily. Harvesting is done in the first half of summer and is similar to the harvesting of flowers. Tincture of fresh, ripened fruits of the sucker, narrow-leaved, retaining its properties without processing for more than 4 months, has been successfully used in homeopathy.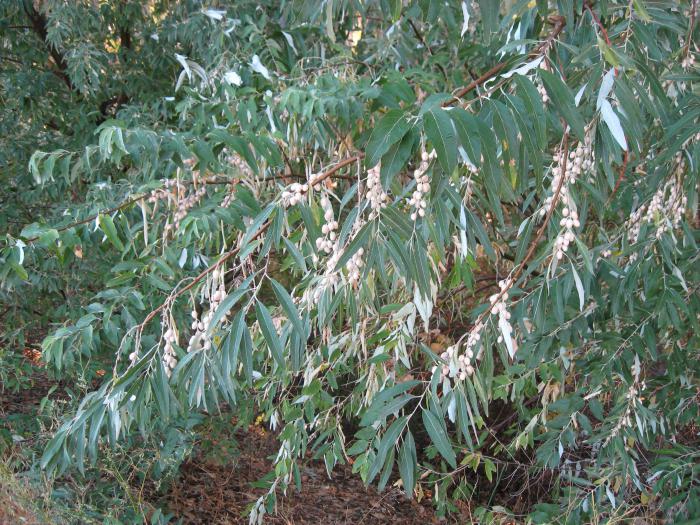 Drugs of the sucker are characterized by low toxicity, have a positive effect on the respiratory organs and the heart, reduce blood pressure. They are used in the treatment of diseases of the kidneys, stomach, heart, pancreas. Fruits of the sucker are characterized by a sedative effect, enhance the effect of hypnotic substances, prevent the development of aggressiveness and rage, and suppress orienting reactions.Finely powdered, they are an effective remedy for hemorrhoids, and a decoction of the cortex helps in stopping bleeding. Fresh fruit juice is used in the treatment of hypertension and malaria.
Characteristics of the sucker
It is not particularly difficult to grow a narrow-leaved loch, the fruits of which are characterized by a mass of useful properties; the tree is unpretentious to the soils (it adapts easily to depleted lands), it is drought-resistant, light-loving and easily tolerates hot dry winds. And the heat resistance of the plant is simply surprising: the tissues of young trees can be damaged in the spring only at a temperature of + 40-45 degrees, and in summer - at +55 degrees and above. Loch narrow-leaved frost-resistant. It can easily withstand temperatures of -25 degrees, perfectly tolerates dust, gas, soot.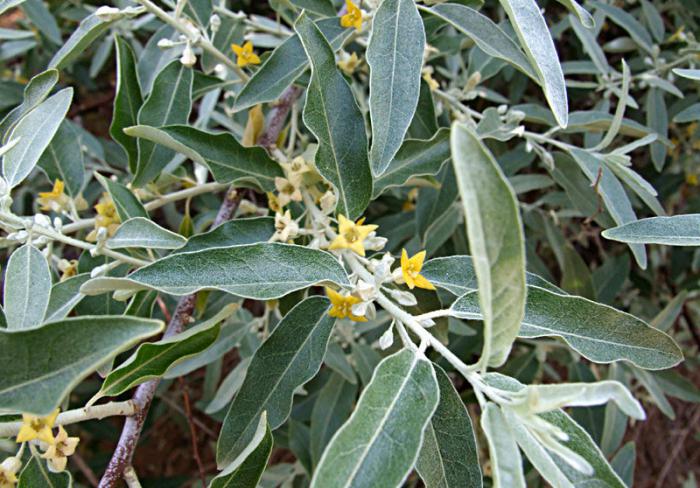 The narrow-leaved loch, whose photo fully conveys the unique individuality of such a tree, has an important ecological significance, enriching the soil with nitrates: its root system is the optimal environment for the development of nodules with nitrogen-fixing fungi-actinomycetes.
Reproduction sucker narrow-leaved
Breeding of the sucker is made by seeds and layering, the plant does not give root offsprings. The best time to plant is the first days of autumn.When planting in groups should maintain a distance between plants of 2.5-3 meters, in hedges - 1.2-1.6 meters. Pests and diseases are of little interest to such a tree.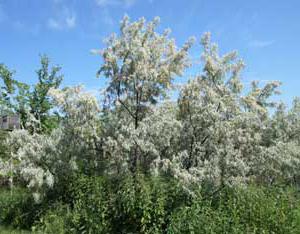 Tree benefits
The narrow-leaved loch, whose photo colorfully conveys the beauty of such an unusual tree, easily tolerates trimming, air pollution, transplanting; in parks and gardens, he stands out for his unusual appearance, especially against the background of dark greenery. It is used in hedges, to strengthen the banks of dams and canals, in forest protective field belts. Pruning is required at regular intervals, at the beginning and end of summer. It is worth noting that with long-term cultivation, the fruits tend to grow larger, and the spines growing on the branches gradually disappear.
Related news
Loch narrow-leaved: landing and care image, picture, imagery