How to pickle trout? To help the young hostess
The described salting is suitable only for trout and salmon. For another fish and the ambassador need another.
How to choose a fish
The taste of the finished dish will depend not only on how to pickle the trout, but also on how to choose the fish. Best of all, large trout are suitable for salting, from 5 kg and more - its bones are easily removed, it is rather fat and very tender. Of course, it is not necessary to buy a huge and rather expensive fish, you can restrict yourself to steak. It is best to take chilled trout, not frozen, so it is easier to determine its freshness, and the taste will be much better in the end.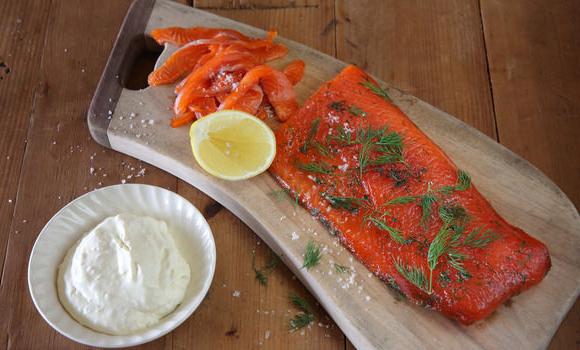 Preparing fish for salting
Before salting the trout, you need to remove all fins, including the tail fins. The head needs to be cut off. All these parts are not waste - they will make an amazing ear! Only the gills of the head should be immediately removed and discarded. With a piece intended for salting, you need to carefully remove the skin and remove the bones.For convenience, you can cut the halves of the steak from the spine (it is also set aside for soup). It is undesirable to wash the fish before salting; it is enough to wipe it thoroughly with a paper towel.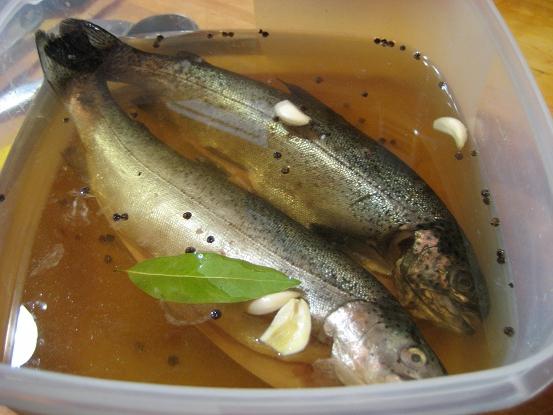 Dry salted trout recipe
Two half carcasses with a gross weight of 1 kg should be generously rubbed with a mixture of coarse sea salt and sugar on all sides and put in a suitable container. Proportions: for half a glass of salt 2-3 spoons of sugar.
Throw 3-4 peas into the fish, pieces of bay leaf.
Cover with a lid that is smaller in diameter than the vessel. Top put the oppression, suitable three-liter jar of water. In this way, the fish will be completely salted in three days.
How to pickle trout with spices
A kilogram of fish will require a glass of salt, a spoon of sugar (preferably brown), 2-3 tables. spoons of port wine or one brandy, spices (star anise, rosemary, oregano, zira, peppers, ground nutmeg), about 40 g of olive oil. All dry ingredients mix, rub the pieces of fish, put tightly in a container, pour a mixture of oil and alcohol. In 3-4 days the trout will be ready!
How to pickle trout in brine
To salting a kilogram of fish will require 500 g of brine. Chop the trout fillet crosswise, in blocks (about 6-7 cm thick), put tightly in a jar, laying onion half rings. Add a few peas of pepper, bay leaf.Pour with brine: olive or sunflower oil (200 ml), mineral water (280 g), vinegar (20 g), salt (50 ml), black pepper (about 0.5 tsp), bay leaf. You can start the tasting no earlier than the 3rd day.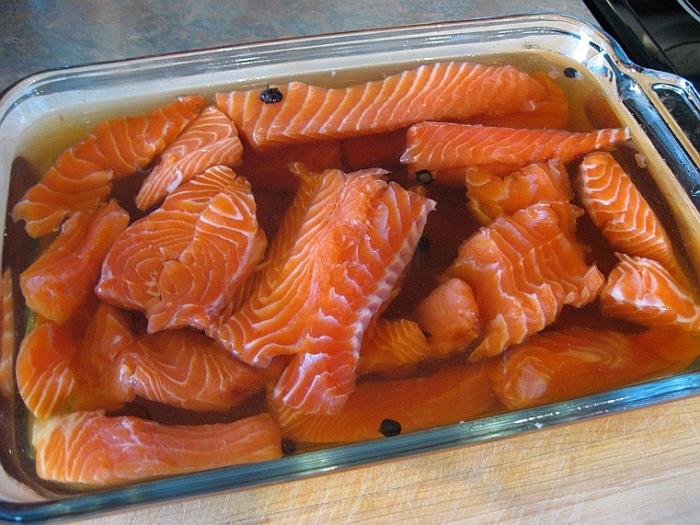 How to pickle trout for sushi
The fish that will be used for making rolls should not be too spicy and rich, therefore the purpose of the preliminary preparation is to emphasize the noble taste of the trout. In order to cook such fish, the fillet should be cut into strips with a thickness of 1.5 x 1.5 cm so that these strips can be conveniently wrapped in a roll. At the bottom of sudochka pour about half a centimeter of salt. Dip the pieces of trout from all sides into this salt, cover with a lid and leave for 4 hours. Fish prepared in this way will be dense and perfectly suitable not only for the simplest rolls, but also for nigiri, gunkans and other figurines more complicated.
Related news
How to pickle a trout To help the young hostess image, picture, imagery