How to glue non-woven wallpaper? Wallpapering on non-woven base
With a general algorithm for sticking wallpaper with non-woven base, according to most experts. They believe that this material is one of the highest quality and most convenient. Currently, non-woven based wallpapers are becoming increasingly popular.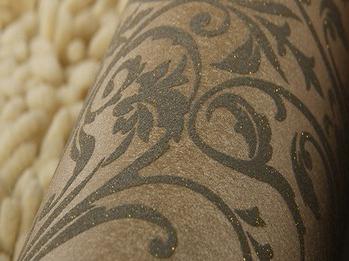 The main advantages
Structural wallpapers on non-woven base have the following characteristics and features:
Roll width - 1.6 meters. Thanks to this, the room will have much less joints than when working with ordinary wallpaper.
This material has increased durability. In addition, he is not afraid of abrasion.
Such wallpapers easily hide various cracks and other defects that occur on the surface of the walls.
When they need to be replaced, they can easily be removed even when dry. Thus, it is not necessary to spend forces and time for additional soaking.
It is worth noting the high lightfastness of this material.
Wallpapering on non-woven base can be carried out directly from the roll. Due to this, the working area is reduced to a minimum.
Wet cleaning can be carried out with the help of improvised means.
Similar wallpapers let in steam, air and so on. However, they do not change the size and structure. Ordinary paper wallpaper does not have such properties.
During the work there will be a minimum amount of dirt and garbage. This is due to the fact that glue for non-woven wallpaper is applied only to the wall.
There is the possibility of multiple staining. Thus, the owners will be able to change their interior when they only want.
Non-woven wallpapers are made from environmentally friendly raw materials. In addition, this material meets all sanitary requirements. It is used not only when decorating walls. Gluing non-woven wallpaper can be carried out on the ceiling. This material is often used for decoration of office and residential premises.
Application features
There are a number of recommendations on how to properly glue non-woven wallpaper. After getting acquainted with them you should proceed to the preparatory stage.Mostly it concerns the walls.
Finishing facilities
In this case, before you begin to glue, you should make sure that the walls are completely smooth. Accordingly, they should not be any cracks, bumps or other surface defects. At the preliminary stage, all surfaces should be cleaned from the old coating very carefully.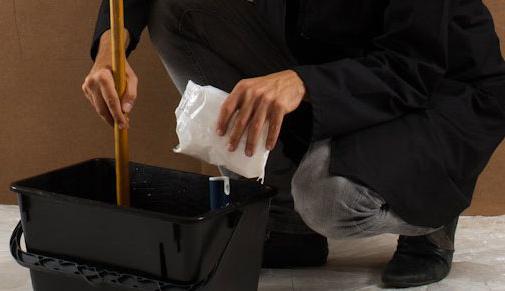 Useful tips
In some cases, getting rid of old wallpaper is not very easy. In order to facilitate this process, they need to properly wet. In this case, you can use water and ordinary rags. Thus, the wallpaper quickly soften. It is best to remove them with a spatula. It should be noted that the surface of most walls in ordinary apartments is far from perfect. In some cases it may even require repair. Thus, at the preliminary stage, you need to putty problem areas. This also applies to corners. Then follows the primer. This can be done with glue or special solution for deep penetration. Only then it will be possible to proceed with the gluing of non-woven wallpaper.
Important conditions
How to glue non-woven wallpaper? Of course, there is a certain technology. So how to glue non-woven wallpaper not every home artist can, pay attention to the following:
First of all, the walls should be smooth and dry.
Another equally important condition is the absence of air flow and drafts. Accordingly, when working with similar wallpaper should not include air conditioning.
The importance of the preparatory phase
Flizelinovye wallpaper can pokleit quite quickly and efficiently, if you clearly follow certain recommendations. In this case, the preparatory stage is very important. This process is not complicated. First of all, leveling the base is required. As a rule, this is done using putty. Next should be primed walls. Then you need to cook glue. For non-woven wallpaper produced special formulations. It should be noted that it is best to entrust the preparation of the foundation to a professional plasterer-painter. As for further actions, almost everyone will be able to master them.
Features of adhesive composition
Do not trust the instructions on the packaging too much. In fact, they do not correspond to the proper practical application. The composition, which is prepared according to the attached instructions, turns out to be too liquid. It is suitable for gluing light paper wallpaper, but no more.
To prepare the composition of the desired consistency will need a ten-liter bucket. There should be poured warm water.
In the bucket you need to pour standard packaging glue. This must be done quickly. The same applies to the stirring process. For this it is best to use a stick. Stir should be done through circular motions.
It is necessary to stir the solution to such a consistency, so that it resembles jelly. Next, add some water. Thus, the consistence of dense sour cream should turn out.
Glue prepared in accordance with the above recommendations, great for working with non-woven wallpaper. It is worth noting that excessive saving solution is not welcome. The quality of the finish depends on the glue. Next, we consider in detail how to properly glue non-woven wallpaper.
Process features
Self-sticking non-woven wallpaper usually starts from one of the corners. Care must be taken. In the corners of the walls the wallpaper should be pasted with a twist up to 2 cm. This place should be well greased with mortar. It should be noted that the flizelin which is a basis of similar wall-paper does not need preliminary wetting with glue. This, by the way, is one of the main advantages of such material. Glue need to smear only the wall. Thus, there is no need to cut the roll into separate parts.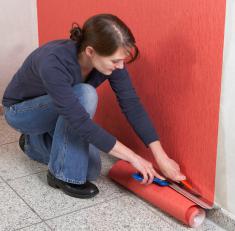 Material must be laid on the floor. Roll to unwind, then stick to the wall strip. It is recommended to carefully straighten the canvas. In this case, you can use a roller or plastic spatula. In order to stick the first page, you will need a level. The canvas will be easier to align, if you draw a reference line on the wall. In particular, this applies to striped wallpaper. The curvature of the walls, as a rule, is very noticeable.
We remove the joints
It should be noted that it is quite easy to glue the first page. Subsequent difficulties may arise. This is due to the need to dock the canvases.Many are wondering how to make these places invisible. In fact, this will not cause any difficulties. The fact is that the wallpaper glides quite well on the surface, which is smeared with glue. In order for the joint to become invisible, you need to attach the canvas to the wall. At the same time, it should be as close as possible to the adjacent lane. Finally, you can move them with your hands.
The position of the canvas may need to be adjusted. After the optimal position of the strip is chosen, it must be carefully smoothed out. There should be no air bubbles under the canvas. It is worth noting that such wallpaper must be properly cut. This skill will certainly need to master. It is useful for preparing the canvas for ceiling baguettes. The cut line is initially formed. For this it is best to use a plastic spatula. They stick the canvas pressed into the corner between the baguette and the wall. Next, you need a knife and a straight line. With them you need to cut off the excess wallpaper.
Related news
How to glue wallpaper non-woven Wallpapering on non-woven base wallpaper image, picture, imagery