Hallway with your own hands: how to properly equip the room
Where to begin?
In most modern apartments there are no spacious halls, as a rule, just a few meters of space are allocated for an entrance hall. It is because of its tiny size that this room during the renovation requires maximum attention and careful planning. Even if you have the smallest hallway, you can turn it into a beautiful and functional room with your own hands. This should take into account the advice of designers, then the proper organization of the space will not present any difficulty.
Color solution
First you need to decide what color your hallway will be. With your own hands today you can finish the room with various materials of all colors and textures. It depends only on your tastes and preferences. However, we should not forget that with the help of some shades you can either hide the defects of a small room or emphasize them.Therefore, it is better to opt for a neutral variant: the lower zone should be of dark shades, the middle should be slightly lighter, and the top should be white (or cream shades). This combination will visually increase the small space and fill the room with a cozy atmosphere.
Wall decoration
Making repairs in the hallway with their own hands, many ordinary people think about what materials to use to decorate the walls of the room. Modern manufacturers offer a lot of options, let's look at some of them.
Vinyl wallpapers
This coating is distinguished by its durability and ease of care. Such wallpaper can be washed with a sponge or brush. In addition, if you choose vinyl for your room, you can be sure that the fungus and mold will not threaten them. If you want to have an original hallway, you can paste your walls with foam vinyl or silk screen printing with your own hands. This coating has a dense relief surface. The only drawback of vinyl wallpapers is that they, like any synthetic material, do not let the air through.
Cork wallpaper
This wallpaper is a paper base covered with a thin layer of cork. Such wallpaper is hypoallergenic, easy to clean and does not collect dust. However, it is not recommended to use them in dark rooms, as this coating takes up most of the lighting.
Liquid wallpaper
This coating is a cross between paper wallpaper and decorative plaster. It looks very unusual, even a boring closet, covered with this finishing mixture, looks like a stylish and original element of the interior.
Decorative plaster
This coating is interesting in that it can be used to create real works of art or intricate patterns on the walls. In order to care for decorative plaster was easier, after the completion of the wall is recommended to varnish.
Floor hallway
Floors in this room can be covered with a variety of materials. The most popular types of coverage are ceramic tile, laminate or linoleum. The choice of materials depends only on your personal preferences.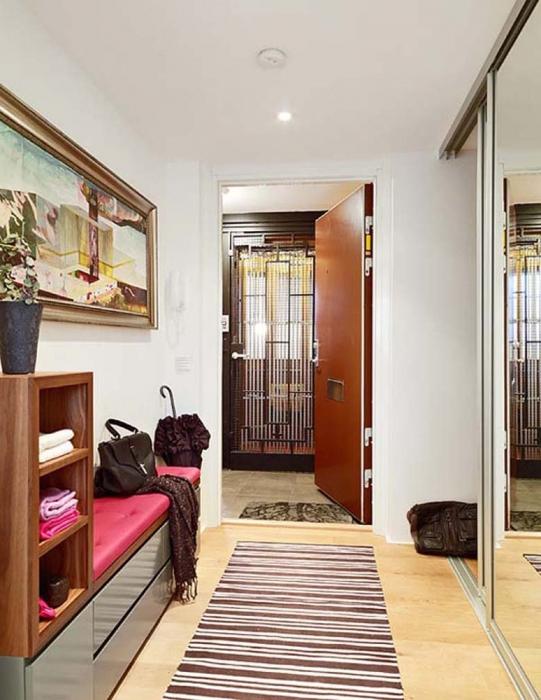 Furniture
When choosing furniture in the hallway, it is better to focus on functional wardrobes with sliding doors.These roomy interior will not take a lot of space, but will allow to place all the necessary things. If you can not find a suitable model in the store, it is better to make the product to order, taking into account the size of your hallway. Then the closet fits perfectly into the overall interior of the room.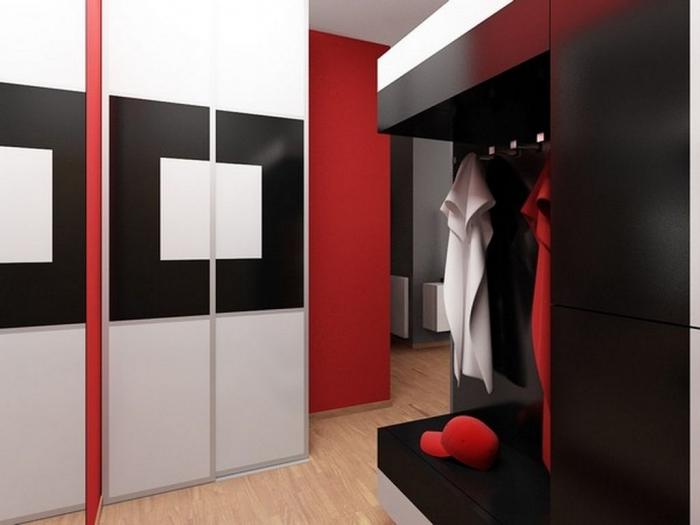 Lighting
If you have a dark hallway, do your own hands to create the kind of lighting that will be as close to natural as possible.
Related news
Hallway with your own hands: how to properly equip the room image, picture, imagery