Cheese Sauce Recipe in Four Variations
What is the best sauce for Italian pasta? What is the perfect combination of fresh and steamed vegetables? How to make it even tastier On all these questions there is one answer - cheese sauce. It has a creamy consistency, a delicate creamy taste and gives the dish a final - very thin and refined - touch. To learn how to cook it yourself is to get a great helper in culinary affairs. From the article you will learn the classic recipe for cheese sauce, its homemade version with sour cream and exquisite - with blue cheese "Dor Blue".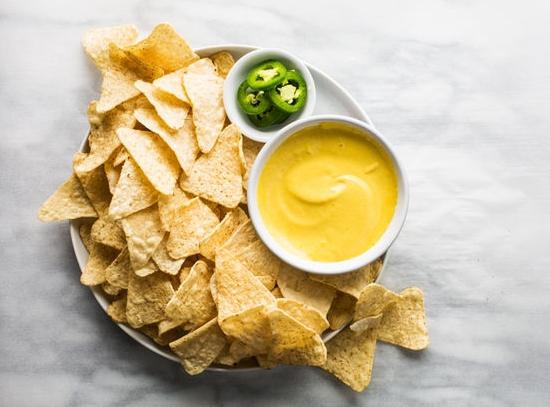 Classic Cheese Sauce
When they talk about cheese sauce, the one that is offered in McDonalds to fries immediately comes to mind. Indeed, in this network of fast food restaurants, it is probably the most popular product. And all because no one can resist this delicate creamy taste. The following recipe for cheese sauce is interesting because the taste of the finished product is very similar to what we used to take in McDonalds.Only here its composition is more natural, which means that it is more beneficial for our stomach. To make this sauce, you will need:
2 cups of milk;
130 grams of cheddar cheese (can be replaced with parmesan);
2 tablespoons of flour;
1 tablespoon butter;
half a teaspoon of nutmeg;
spices (pepper, salt).
Cooking
Heat the milk and melt the butter in it. Pour the flour and boil, continuing to stir until the mixture boils. Reduce heat to low and cook for 5 minutes. Then add the grated cheese and spices, mix everything well and continue cooking for another 5-7 minutes. The cheese should be completely dissolved. Then cool and serve with french fries or fresh vegetables. When hot, it is ideal for pasta or vegetable casserole.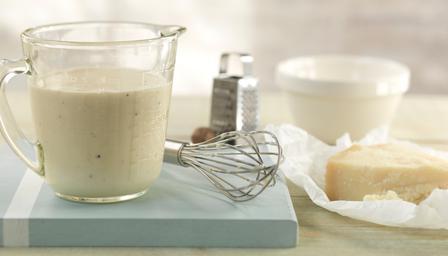 Homemade cheese sauce with sour cream
And now we will cook a delicious sour-cheese sauce. It turns out very thick and satisfying. It goes well with freshly baked bread and pita bread. Here is what you need to make it:
2 eggs;
100 grams of sour cream;
80 grams of cream;
40 grams of grated cheese;
20 grams of butter;
20 grams of flour.
How to cook?
Whisk whip eggs with sour cream, gradually add grated cheese to this mixture. The oil is melted (in a water bath) and combined with the cheese-egg mass.Cream and flour also interfere there. The sauce is heated over low heat and cooked until thick.
Gourmet Noble Blue Cheese Sauce
And this recipe for cheese sauce will appeal to lovers of noble cheeses with mold. You can use "Gorgonzola", and "Brie" or "Camembert", and "Roquefort". But in this case it's "Dor Blue." The taste of the finished product will depend on which grade you choose. This sauce is different spice and mild spiciness, which gives it a mold. Serve it can be baked potatoes, fish and meat. By the way, there are two versions of the sauce - hot and cold. Let's start with the first. For the preparation we need:
200 grams of heavy cream;
100 grams of blue cheese;
black pepper (ground).
Cooking
First, cook the cream on low heat until the moment when they begin to thicken. Cheese cut into small pieces and send to the pan. When it is completely dissolved, add a little freshly ground pepper. Stir and cool. Is done.
Cold Dor Blue Cheese Sauce
How to make cold cheese sauce? Its composition will be somewhat different:
100 grams of natural yogurt;
100 grams of sour cream;
60 grams of Dor Blue cheese.
Cooking
Cooking is easy. It is only necessary to whisk in a blender all the components until smooth. If the consistency is not completely uniform, then wipe the sauce through a sieve. Delicate cream with a pleasant sharpness is ready. If you want something fast, but elegant, then choose this recipe for cheese sauce and you will not lose.
Related news
Cheese Sauce Recipe in Four Variations image, picture, imagery