Cable tip - the guarantor of a safe connection
Cable tip - a type of contact part that is used for installationand reliable connection of aluminum, coppercables and wires.
The purpose of cable lugs is not only in establishing a quality connecting link. Cable tip allows you to reduce the contact resistance that occursat any contact of electrical conductors. Consequences of a large transitional resistance - molten sockets, overheating plugs, often tripping devices, the risk of fires and the overall decline in the safety of network operation, the threat to human life in general. It is this problem that the cable tip is designed to solve.
Types of cable lugs
Cable lugs are made of soft metal, easily subject to external mechanical stress.
There are threetips:
Copper cable lugs.

Aluminum cable lugs.

Aluminum-copper cable lugs.
Types of cable lugsdue tocable materialwith which they are used. So, for terminationcopperused tipcopper cable. For terminationaluminumcables- aluminum cable lugs.
For connecting copper and aluminum wiresare usedAlu-copper cable lugs
Productioncopper tipsregulated by GOST 7386-80. Aluminumand copper-aluminum- GOST 9581-80.
Also tipsclassified by the strength of the passing current. There are low-current and power connectors and tips.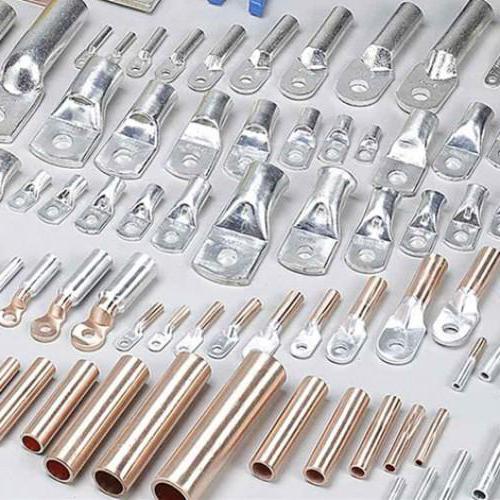 By application distinguish between disposable and reusable.cable lugs. Firstsubjected to pressure testing. At installation of reusable tips use the alternative ways of connection allowing dismantle further.
When selecting a cable tip it is important to consider the diameter of the cross section of the core. The size of the diameter of the tip should be as close as possible.
After mounting the tip, the gap between the conductor and the cable should be minimal.
Crimping cable lugs
Good contact is caused not only by a well-chosen tip, but also by high-quality crimping. Now most relevant are the following types of crimping: mechanical, hydraulic and battery. Previously, the installation used soldering, but this method is very laborious in time and effort and is now used very rarely.
Mechanical crimping is the most popular - it is an effective and relatively inexpensive crimping method. When performing crimping, you should pay attention to the presence of flash - excess metal on the tip. A small amount of burr is permissible and indicates that the size of the tip under the vein is chosen correctly. A large number of burr indicates the opposite and is unacceptable, because it accelerates tip wear and reduces the safety of the connection.
Scope of cable lugs
Cable lug is used almost everywhere - both on an industrial scale and in everyday life. Provides high-quality and reliable connection. It is the guarantor of reliable network operation and security of life.
Related news
Cable tip - the guarantor of a safe connection image, picture, imagery